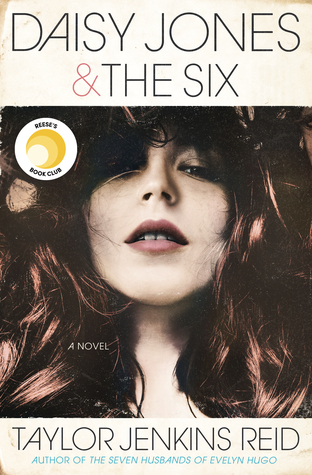 Everyone knows Daisy Jones & The Six, but nobody knows the reason behind their split at the absolute height of their popularity . . . until now.
Daisy is a girl coming of age in L.A. in the late sixties, sneaking into clubs on the Sunset Strip, sleeping with rock stars, and dreaming of singing at the Whisky a Go Go. The sex and drugs are thrilling, but it's the rock and roll she loves most. By the time she's twenty, her voice is getting noticed, and she has the kind of heedless beauty that makes people do crazy things.
Also getting noticed is The Six, a band led by the brooding Billy Dunne. On the eve of their first tour, his girlfriend Camila finds out she's pregnant, and with the pressure of impending fatherhood and fame, Billy goes a little wild on the road.
Daisy and Billy cross paths when a producer realizes that the key to supercharged success is to put the two together. What happens next will become the stuff of legend.
The making of that legend is chronicled in this riveting and unforgettable novel, written as an oral history of one of the biggest bands of the seventies. Taylor Jenkins Reid is a talented writer who takes her work to a new level with Daisy Jones & The Six, brilliantly capturing a place and time in an utterly distinctive voice.
---
You know those books that rip your heart apart and then mends it back? This was one of them. Except my heart doesn't feel very much mended. There is an ache. And it's the worst kind of ache.
The way this author explores addiction in this book is just too stark and raw. The addiction felt like a character itself. It was fascinating to see how differently all the characters dealt with their addictions. These characters were all too real. Billy and Daisy especially. Billy is a man I'd respect a lot if I met him for real. That doesn't mean he's perfect. In fact, he's as imperfect as one can be. He's a larger than life character with an ego too big. He also got on my nerves a lot and did things that I didn't wish for him to do.
If this book has a heart then that lies in Daisy Jones. I can't remember the last time a character made me feel so many things at the same time. I just wanted to hug her and tell her that she's not alone. She's the baddest bitch with the softest heart. I won't lie, I even shed some tears for her. She just made me feel really sad. If nothing else, I'd suggest everyone to read this book just for her.
The music plays such a big part in this story. If Daisy is the heart of the story then music is its soul. I hear that a web-series is about to made based on this book. And my heart is not ready.
Do I recommend? Absolutely. It's not an easy read. But if you love rock n' roll, music, damaged characters and feel connected to a story, this one's definitely it for you.
I now need a really fluffy romance to get over this book. Any recommendations?
---
★★★★★
---