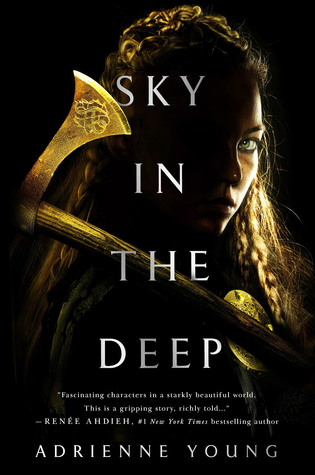 Part Wonder Woman, part Vikings—and all heart.
Raised to be a warrior, seventeen-year-old Eelyn fights alongside her Aska clansmen in an ancient rivalry against the Riki clan. Her life is brutal but simple: fight and survive. Until the day she sees the impossible on the battlefield—her brother, fighting with the enemy—the brother she watched die five years ago.
Faced with her brother's betrayal, she must survive the winter in the mountains with the Riki, in a village where every neighbor is an enemy, every battle scar possibly one she delivered. But when the Riki village is raided by a ruthless clan thought to be a legend, Eelyn is even more desperate to get back to her beloved family.
She is given no choice but to trust Fiske, her brother's friend, who sees her as a threat. They must do the impossible: unite the clans to fight together, or risk being slaughtered one by one. Driven by a love for her clan and her growing love for Fiske, Eelyn must confront her own definition of loyalty and family while daring to put her faith in the people she's spent her life hating.
---
Sky In The Deep is a deep fantasy YA that didn't necessary feel like a YA. And I think that's a good thing. Young Adult books these days seem to all follow a similar pattern such that at one point they all start to mesh into one anther. Even YAs that I like or enjoy follow the structure that seems to be the established norm for books of this genre. So, it's always commendable when an author takes an entirely new direction with her take on YA.
The thing that hooked me about this book from the very first was the protagonist Evelyn. I was right with her from the start when she finds her brother alive and then is captured as a slave where her whole belief system is tested. I could feel her betrayal like it was my own. I felt bitterness towards her brother Iri and his adoptive family just as she felt it. A big part of me didn't want Evelyn to forgive them which I knew she would. Now, creating such empathy for the protagonist in the reader is a credit all owed the writing.
Where the writer succeeds with her protagonist, she fails to create that same momentum with the love interest. I know that the author wanted Fiske to come across as mysterious. But I found him a little bland. I wanted more of his perspective. I wanted to know when his feelings for Evelyn started. I did like the romance aspect when it does emerge but the transition left a lot to be desired for. I think I had a problem with how Fiske treats Evelyn at the start. He knows that she's Eri's sister and yet his attitude with her felt unacceptable to me. Even Eri's decision was to have decided to stick to his new life and family did not feel very well-explored to me.
I did appreciate the running themes of family and forgiveness. Although I wasn't impressed with how easily Evelyn seemed to forgive her captors, I could understand the process. The way Evelyn slowly and surely discovers that people who she thought her enemies were actually quite similar to her own people was beautiful to see. But even here, I did not like that what united the two tribes was the threat of another tribe. So, these two tribes are supposed to be the good ones and the third tribe is the real evil? Why? What separates them? That they raid and kill or capture the other tribes? But Evelyn and Fiske's tribes did the same too. Why exactly are the third tribe the only evil at the end? I would've liked a little more history and back-story about the enmity between the tribes. I didn't even go into the book with any prior knowledge of the book and for the first few pages I was confused about the Riki actually were. Were they some magical creatures or animals? I found myself feeling a little stupid for thinking that when I realized they were all humans.
I think I've been very critical of this book so far. The truth is, I genuinely really enjoyed the book – the slow-building of the plot, the pace and all the action. The details of the rituals and lifestyle of the characters had depth in them. I enjoyed the story so much that I could ignore all the issues I had with it. It was only after I finished it and got to write this review that I let myself think about what exactly about this book did not leave me completely content. I'll take that as a plus because this proves it was an engaging story above everything else.
---
My Rating: ★★★★☆
---