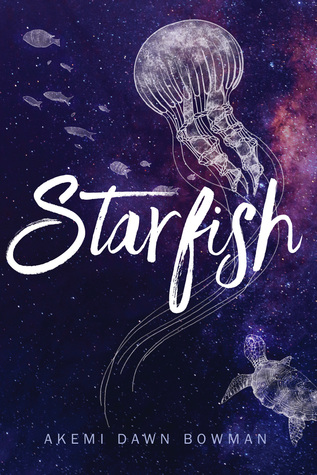 Kiko Himura has always had a hard time saying exactly what she's thinking. With a mother who makes her feel unremarkable and a half-Japanese heritage she doesn't quite understand, Kiko prefers to keep her head down, certain that once she makes it into her dream art school, Prism, her real life will begin.
But then Kiko doesn't get into Prism, at the same time her abusive uncle moves back in with her family. So when she receives an invitation from her childhood friend to leave her small town and tour art schools on the west coast, Kiko jumps at the opportunity in spite of the anxieties and fears that attempt to hold her back. And now that she is finally free to be her own person outside the constricting walls of her home life, Kiko learns life-changing truths about herself, her past, and how to be brave.
---
Two pages into the book, I thought to myself 'The writing is so fluid and effortless!" And it was. I come across my fair share of pieces of writing that I find disjointed and forced, so I know when to appreciate and enjoy it when reading masterful writing such as this.
Let's backtrack to how I discovered this book. A few weeks ago, when reading entries of Top Ten Tuesday, a weekly blog meme, with the week's theme being being characters we could relate to, I saw the protagonist Kiko from Starfish in quite a few lists. The description had me curious although I wasn't too drawn by the blurb when I googled the book. I'm so glad that I ultimately picked the book up!
It would be unfair of me to say that I relate to Kiko. I don't quite share her form of social-anxiety. Rather, I suffer from some sort of post-social anxiety. That is, I find social encounters taxing because I feel exhausted after the encounters instead of feeling nervous before them. I spend a large amount of time dissecting and analyzing the things I did and said, and suffering from embarrassment. Unlike Kiko, I am impulsive and just say whatever comes to my mind. That is why, whenever Kiko would think one thing and say another thing, letting others overpower her, I kept getting frustrated wanting her to speak her mind and go all guns blazing!
Kiko wishes she could look like everyone else. She wishes she could be effortlessly social like her peers. She wishes she could have her mother's attention and love. Most of all, she wishes she could get into her desired art school Prism. But Kiko is a product of emotionally abusive parenting. And she suffers from serious self-esteem issues.
I might not relate to Kiko, but I felt for her big time! I just wanted to hug her and tell her that she's loved. Her loneliness and helplessness jumped out of the book and engulfed me. The mother seemed past the point of redemption the moment I realized that she didn't believe her daughter in her most vulnerable state. I found her to be a hateful character!
I was mad at the father because he left Kiko and his two sons in the hands of a woman who he knows to be manipulative. He is also partly to blame for the identity crisis that Kiko faces as a half-Japanese because he didn't try hard enough to get her acquainted to his culture. His being a passive and acquiescent makes him no less guilty than the mother in my eyes.
I could totally understand Kiko's crush on Jamie. Who wouldn't crush over this adorable boy? There is a bit of a mystery over why he didn't contact her after moving away back when they were 11 when they were such best friends. I didn't expect the revelation that came at the end. I liked it even though it made me only hate certain characters even more.
If I could point out a few complaints I had about the book, it would be how things seem to fall a little too conveniently into places  for Kiko, after she goes to California. I also wished the author took a different approach rather than using romance initially to bring in a transformation for her. Having said that, I loved how she understood her dependence on Jamie and wanted to come on to her own without using him as a crutch.
But these are only little things. I can say that the author's writing was beautiful and makes me want to pick her second book asap. I felt strongly for the book – the story and the characters. Kiko will definitely with me for a long time. And as a reader, that's all I can hope for – the story to leave a mark on me.
---
★★★★★