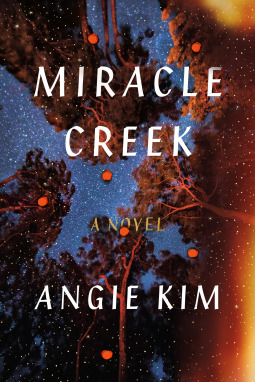 A literary courtroom drama about a Korean immigrant family and a young, single mother accused of murdering her eight-year-old autistic son.
My husband asked me to lie. Not a big lie. He probably didn't even consider it a lie, and neither did I, at first …
In the small town of Miracle Creek, Virginia, Young and Pak Yoo run an experimental medical treatment device known as the Miracle Submarine—a pressurized oxygen chamber that patients enter for therapeutic "dives" with the hopes of curing issues like autism or infertility. But when the Miracle Submarine mysteriously explodes, killing two people, a dramatic murder trial upends the Yoos' small community.
Who or what caused the explosion? Was it the mother of one of the patients, who claimed to be sick that day but was smoking down by the creek? Or was it Young and Pak themselves, hoping to cash in on a big insurance payment and send their daughter to college? The ensuing trial uncovers unimaginable secrets from that night—trysts in the woods, mysterious notes, child-abuse charges—as well as tense rivalries and alliances among a group of people driven to extraordinary degrees of desperation and sacrifice.
---
What an engrossing debut by an author who knows how to write mysteries where every character has a story to tell!
This a courtroom drama where we get to see the story from every character's point of view. And yet, the mystery of who is the culprit keeps you at your toes till the final reveal. I loved how every time I would become almost sure about a certain character being the culprit, the author throws a new curveball at us.
Every character is dishonest here. Everybody has their secrets and motives. Everybody lies. This book explores so many themes – motherhood, autism, immigration, abuse. But I think above all, it was about the extents that a mother could go to for her child. One thing that impressed me was how the author tackled the topic of struggle that every mother faces in their frustration with their inability to control their children's life – be it their health or behavior.
It took me awhile to get into the story. What ultimately sucked me in was the courtroom shenanigans. The cross-examinations were so well done! I would have loved to see the culmination of the whole thing in a courtroom too. Not that I didn't like the way it happened, but I was hoping for the case to culminate like a typical courtroom drama. Kudos to the author for making it unpredictable!
Even when I thought I had it all figured it out, I was wrong. And that makes me so happy! There are a lot of important themes going on here, all of which have a depth to them that made me stop and think what or who was right and wrong here. A great read!
---
★★★★☆
---
Publication Date: 16th April, 2019.
Source: ARC from Publisher (via Netgalley)
Links –  Amazon| Goodreads |Barnes & Noble