A love story about what happens after you meet, or rather, don't meet the one.
Laurie is pretty sure love at first sight doesn't exist anywhere but the movies. But then, through a misted-up bus window one snowy December day, she sees a man who she knows instantly is the one. Their eyes meet, there's a moment of pure magic…and then her bus drives away.
Certain they're fated to find each other again, Laurie spends a year scanning every bus stop and cafe in London for him. But she doesn't find him, not when it matters anyway. Instead they "reunite" at a Christmas party, when her best friend Sarah giddily introduces her new boyfriend to Laurie. It's Jack, the man from the bus. It would be.
What follows for Laurie, Sarah and Jack is ten years of friendship, heartbreak, missed opportunities, roads not taken, and destinies reconsidered. One Day in December is a joyous, heartwarming and immensely moving love story to escape into and a reminder that fate takes inexplicable turns along the route to happiness.
---
This one's for all the hopeless romantics out there. It's about love at first sight. Something that's not my cup of tea. But the author presents it in such a way that I was sold 100% on that. The connection between Laurie and Jack felt tangible to me. The characters themselves felt real to me. And I think when an author can accomplish that, she's already won half of me over.
At the very beginning, Laurie calls the guy from Love Actually who confesses his love to his friend's wife, a bad friend. That right there should be a big warning for everyone on what's to come.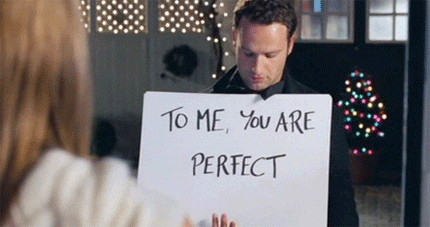 No, Lauri does not turn out to be a bad friend. She's too good a friend, even, which frustrated me to no end. I felt myself irrationally disliking her best friend Sarah at the beginning even when I knew that she wasn't necessarily to blame. But that was only because my heart ached for Laurie so much! The whole situation between these three made my heart ache like nothing else!
The whole book is a series of missed opportunities. I loved Jack and Laurie together and individually. But Jack did test my patience quite a lot of times. So much so that I found myself wishing for Laurie to end up with Oscar at one point. All the characters (with the exception of 2 maybe) were so  relatable that I just wanted everyone to end up happy in the end. I was invested in their lives. Even Sarah who I wanted to dislike had me feeling for her before long. Although, I was frustrated with Jack and Laurie more often than not, I understood where they were coming from, and wanted the world for them.
This was an antsy read. I couldn't put the book down in my desperation to know how it ends for all the characters. Above all, this was a book with characters and relationships that felt real to me. And that, more than anything else, made the book a winner in my eyes.
If I have one complaint, it's the abrupt ending. After being put through such a ringer, I think that we deserved a proper epilogue. Excepting this one flaw, I'd call this a perfect read for the upcoming holiday season!
---
My Rating: ★★★★☆