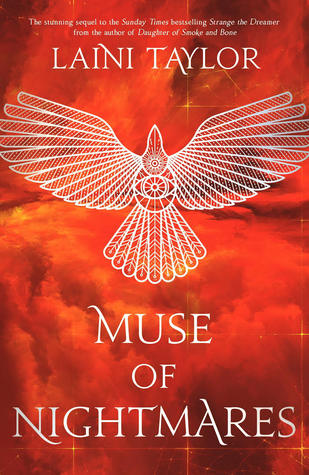 Sarai has lived and breathed nightmares since she was six years old.
She believed she knew every horror, and was beyond surprise.
She was wrong.
In the wake of tragedy, neither Lazlo nor Sarai are who they were before. One a god, the other a ghost, they struggle to grasp the new boundaries of their selves as dark-minded Minya holds them hostage, intent on vengeance against Weep.
Lazlo faces an unthinkable choice–save the woman he loves, or everyone else?–while Sarai feels more helpless than ever. But is she? Sometimes, only the direst need can teach us our own depths, and Sarai, the muse of nightmares, has not yet discovered what she's capable of.
As humans and godspawn reel in the aftermath of the citadel's near fall, a new foe shatters their fragile hopes, and the mysteries of the Mesarthim are resurrected: Where did the gods come from, and why? What was done with thousands of children born in the citadel nursery? And most important of all, as forgotten doors are opened and new worlds revealed: Must heroes always slay monsters, or is it possible to save them instead?
Love and hate, revenge and redemption, destruction and salvation all clash in this gorgeous sequel to the New York Times bestseller, Strange the Dreamer.
---
It looks like Laini Taylor can never disappoint me. This sequel did things I'd never imagined it would. I'm thoroughly satisfied.
I was at my wit's end, when I finished Strange The Dreamer, thinking about how Lazlo and Sarai would be able to escape the predicament they were in at the end. It's not even a predicament. Sarai is dead. A ghost! How do you even overcome that? But I forgot that it's Laini freaking Taylor! She can make anything possible and that too convincingly.
Right at the beginning, we get thrown into the story of two brand new characters. And I never like when that happens in a sequel. I find it very difficult to invest in the story of new characters when there's already-established favorite characters I'm worried about! It was the same for me here when we get introduced to the twin sisters Nova and Cora. But Laini weaved such a beautiful tale that slowly and surely I was hooked.
The plotting is done brilliantly. Every little detail is made relevant. The way Taylor connects everything and executes her ideas is nothing short of genius. The book lives up to its title. It's the Sarai Show. I'd actually thought that with Sarai being a ghost, it would all be up to Lazlo to save the day. But that wasn't the case. Rather, he takes the backseat to Sarai more often than not in this book.
I can't remember the last time I was this satisfied with character development in a book. There isn't one character I couldn't empathize with. There's no villains here. Even the characters I absolutely despised in Strange The Dreamer undergo such growths that one can't help but feel for them. At times I didn't even need any character-growth to feel empathy. For instance, I found myself empathizing with Miniya even when she was unleashing her cruelty on Lazlo and Sarai. But I think the character-growth that most pleased me was Thyon. His arc was one of the most interestingly written ones.
Lazlo and Sarai were as amazing as ever. Their faith and love for each other was beautiful. I especially loved how Lazlo played a big part in Sarai building her self-confidence. And their capability to empathize and be inherently good earned my appreciation even more. Though, I gotta say that most of their romance scenes were a bit on the fluffier side. Not something I could enjoy when there was so much at stake. It also made for a slower pace at the middle. I think I'll enjoy those fluffy scenes more my second time reading it as I won't be in a rush to find out the answers to my questions.
The second half was more tightly paced and only then I could realize how brilliant the build-up to it was in the first half. I loved the epilogue too. There was a part in the end with a clever reference to Taylor's Daughter of Blood and Smoke. That had me grinning widely!
(Funnily enough, I couldn't help but think of an adventure game scenario when I was reading the climax. That actually made me realize that this series could be adapted perfectly into a RPG/adventure game.)
Only Laini Taylor can combine a character driven story and a strong plot with enough twists and turns to make it exciting. I would give this 6 stars if I could.
---
My Rating: ★★★★★