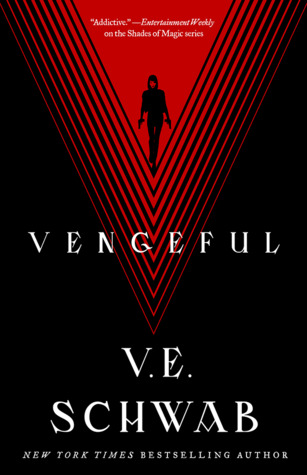 The sequel to VICIOUS, V.E. Schwab's first adult novel.
Sydney once had Serena—beloved sister, betrayed enemy, powerful ally. But now she is alone, except for her thrice-dead dog, Dol, and then there's Victor, who thinks Sydney doesn't know about his most recent act of vengeance.
Victor himself is under the radar these days—being buried and re-animated can strike concern even if one has superhuman powers. But despite his own worries, his anger remains. And Eli Ever still has yet to pay for the evil he has done.
---
Such an emotionally taxing read. I read read both the books in the duology back-to-back. And I regret nothing. NOTHING. There's no fun in doing anything half-ass anyways. Heh.
After finishing Vicious, I didn't think Schwab could possibly outdo herself with Vengeful. But she did. The intensity and rawness she delivers with her storytelling is simply incredible.
The stakes are higher this time with even more players in the game. We get introduced to a number of new characters in this book. All of them dangerous and unpredictable. And it is commendable that we get to see the depth of each of these characters. No wonder this was such a long read. But the length was worth it as Schwab explores the complex arcs of the diverse cast of characters.
We also see a lot of growth for our old cast of characters. Sydney, especially, is no longer the sweet and acquiescent girl we knew her as. But her bonding with Vic, Dom and Mitch is still as endearing. They're a family that shares no blood but are loyal to the bones. A big shout-out to Mitch for having no super-power and yet having the strength to stand out.
Schwab humanizes Victor and Eli in Vengeful. They're no longer as invincible as they were before. It was great to see Eli's back-story. I could appreciate him a lot more now that I could see his origins. These two are one of the most complexly written characters I've read in contemporary fiction.
The standout of the book was still Victor for me. His tenacity and determination to never give up made me fall even more in love with him.
Victor Vale has carved his name as one of the best-written fictional characters I've read.
I have the feeling that more's to come from this universe. And I'm equally nervous and excited for it.
---
My Rating: ★★★★★
---
Have any of you read the book yet? What did you think? Were you as mindblown by it as I was? Or was it underwhelming (I doubt it but still…)? Let me know in the comments below!