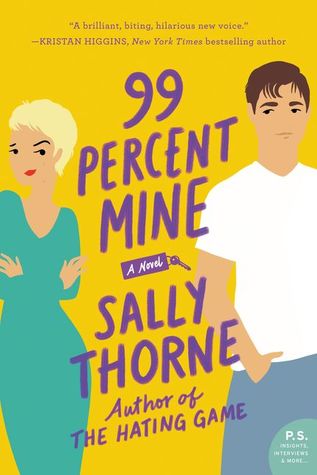 "I'd like to thank the Publisher for providing me with an ARC in return of an honest review."
---
Crush: a strong and often short-lived infatuation, particularly for someone beyond your reach…
… If Darcy Barrett hadn't met her dream man when she was eight years old, the rest of the male population wouldn't be such a let-down. No one measures up to Tom Valeska, aka the best man on Earth, not in looks, brain or heart. Even worse is the knowledge that her twin brother Jamie saw him first, and claimed him forever as his best friend.
Tom's off limits and loyal to her brother, 99%. One percent of Tom has had to be enough for Darcy, and her adoration has been sustained by his shy kindness. And if she's honest, his tight t-shirts.
Now Darcy's got three months left to get her life together before her twin insists on selling the tumble-down cottage they inherited from their grandmother. By night, she's working in a seedy bar, shooting down lame pickups from bikers. By day, she's sewing underwear for her best friend and wasting her award-winning photography skills on website shots of pens and novelty mugs. She's enjoying living the messy life, and a glass of wine or ten… until that one night, when she finds a six-foot-six perfect package on her porch.
Tom's here, he's bearing power tools—and he's single for the first time in a decade.
As a house flipper extraordinaire, Tom has been dispatched by Jamie to give the cottage a drastic facelift that will result in a ton of cash. Darcy doesn't appreciate Tom's unsentimental approach to knocking down walls, and he really, really doesn't approve of her current burnout boyfriend. They can't be in the same room together without sparks flying- and it's not the faulty wiring. One bedroom wall separates them at night, and even that's looking flimsy.
Will Tom ever see Darcy as anything other than a little-sister obstacle to get around? And can she stand up to her most formidable opponent—her twin? This time around, she's determined to make Tom Valeska 99 percent hers, and he's never managed to say no to her yet…
---
Sally Thorne did it, y'all! She lived up to the expectations. And dare I say, she even exceeded them? Because I really didn't expect to enjoy 99 Percent Mine as much as The Hating Game. But I did!
I could say that my love for 'unrequited crush' and "having a thing for the brother's best friend" trope was what made the book such a hit for me. But I just read a book with the same themes a couple of months ago and was left unimpressed. The same tropes at the hands of another writer made the world of a difference. Execution matters, okay? And Sally Thorne seems to have mastered it. It's almost like she peeked into my heart and basically wrote a book based on my romance wish-list that even I wasn't aware of.
I will not be going into any comparisons with The Hating Game. Because I think that would be unfair. These are two entirely different stories with different sets of characters. All I'll say is that both of these books provided chicken soup to my soul when I needed it. And that's that.
I love romances with slow-burn and a whole lot of unresolved tension. This book served all that on a platter for me. The chemistry between Darcy and Tom was off the charts. Thorne excels at capturing the initial uncertainty, insecurities and the push-pull play between a couple. She did it in her debut book and she does it here again. I felt the good kind of frustration to see these two navigate their feelings for each other.
Darcy was a self-destructive character. Her life is a mess. She's got a lot of insecurity issues along with a sort fuse for a temper. I was pleasantly surprised by how much I enjoyed the twin-angle. Although, I went in for the romance, I was rooting for Darcy and her twin brother Jamie to pull through too. And Jamie? He was an asshole with a marshmallow for heart. The love-hate relationship between the two siblings was perfectly portrayed in the book. I might not be a twin but I have a brother with whom I kinda share a similar equation.
I could see why Darcy fell so hopelessly for Tom. He was too good to be true! Who wouldn't fall for a sweet and considerate guy like him? He was the rock solid anchor that always balanced the two extremes of the two twins. It was obvious how important he was to both of them and to see him being always pulled between the two was adorable! He might not be the perfect guy that Darcy sees him as, but he's pretty damn close.
You know what else I liked? How Darcy took the lead in many of their important moments. She was never passive and also knew when to back off too. So when both of them made any progress, it was done mutually.
There were both hilarious and heartfelt moments that made it a welcome addition to my favorites shelf. I foresee a lot of rereads in the future. And Sally Thorne has solidified her status as my favorite contemporary romance author with this book!
Can we have a book on Jamie now, please?
---
My Rating: ★★★★★

---
Publication Date: 29th January, 2019.
Source: ARC from Publisher (via Edelweiss)
You can find this book on – Goodreads | Amazon