*I'd like to thank the Publisher for providing an ARC of this book through Netgalley*
---
WHEN ARROWS FLY, CUPID BETTER GET OUT OF THE WAY . . . OR RISK BEING SHOT
~~~
It-girl and blogger Emma Worth appears to have it all: beauty, brains, connections and a fabulous Manhattan apartment. Emma makes it her business to tell others what to wear and who to date because she knows best. Obviously.
Despite her designer outfits and glitzy New York lifestyle, something's missing . . . If she only knew what it was. That is, until a hot A-lister swoops into her life and sends Emma's pulse racing and fills her head with red-carpet fantasies.
Emma's neighbor Adam Knightley is disapproving, telling her she needs to fix her priorities and stop chasing celebrity pipe dreams. The man would look hot on a red carpet himself if only he'd stop frowning for more than five seconds.
When Emma's matchmaking backfires and her meddling causes mischief, what's a girl to do? Try to lie her way out of it, of course. Anyway, who cares, right? Because Emma's finally getting the kind of attention she deserves. Except in her fantasies, things looked a lot different. And it didn't feel this heartrendingly painful . . .
Love her or hate her, Emma is back––with a sexy makeover, 21st-century problems, and another chance to redeem herself in this grippingly entertaining, thoroughly original retelling of the Jane Austen classic.
---
Jane Austen's Emma is one of my all-time favorites. In fact, she even might be my favorite Austen heroine, despite all her flaws and imperfections.
Suffice it to say, I was excited about reading this retelling.
I'll just say this before anything else – Emma and the city doesn't even come close to living up to the original. And I didn't even expect it to. That's simply impossible. And no author should even aim for that. All I wanted was the author to give her own fresh twist to the old story. And she sorta did. But I couldn't bring myself to like it or even find it fresh.
I won't even bother comparing this retelling with the original. Even on its merit, Emma and the city felt weak to me. Okay, here goes my rant. (And a few Clueless gifs)
I'll start with what I found unbelievable. You can't just have a dynamic like Emma-Harriet in a modern age setting without bringing changes to it. For those who haven't read the original, there Emma takes Harriet – a girl from an unremarkable background – under her wings and guides her in navigating the high society.
In this retelling, Emma helps her old nanny's niece Haley settle down in New York after she moves there. And that's all fine and dandy. But Emma also takes dating decisions for Haley and feeds her a false narratives about her neighbor Zak's interest in him, based on her own assumptions. That felt like an unbelievable for me in this setting.
Hilliges's Emma comes across as a delusional and obnoxious busybody with no sense of boundaries and not a single apologetic bone in this book. At least Austen's Emma was written as an unassuming and well-intentioned lady but this Emma was too haughty for my liking.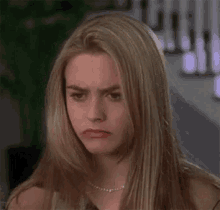 Although I did like some of the modern twists – having Knightley divorced, Emma's issues with her father, inserting a celebrity spin to Churchill-Fairfax's story. But, most of it felt too mechanical to me, as if they were engineered just for the sake of following the trajectory of the original.
In other words? Execution left a lot to be desired.
I have to be honest here. Even disregarding any comparisons with the original, I couldn't but compare this with other retelling I've read this year and how much more I enjoyed them. Emma and the city falls far behind on that mark too.
---
My Rating: ★★★☆☆
---
Publication Date: 18th September, 2018.
Source: ARC from Publisher (via Netgalley)
You can find this book on – Goodreads | Kobo