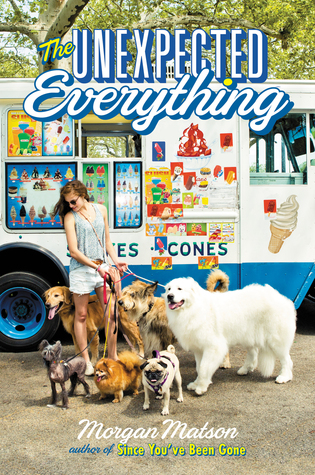 It kills me that I've waited this long to read this book. I wonder how many other books I've got on my TBR list waiting to make me feel even more of an idiot.
---
Andie had it all planned out. When you are a politician's daughter who's pretty much raised yourself, you learn everything can be planned or spun, or both. Especially your future. Important internship? Check. Amazing friends? Check. Guys? Check (as long as we're talking no more than three weeks).
But that was before the scandal. Before having to be in the same house with her dad. Before walking an insane number of dogs. That was before Clark and those few months that might change her whole life. Because here's the thing—if everything's planned out, you can never find the unexpected. And where's the fun in that?
---
It's always great to find a book that has a group of friends, each with their own identities and quirks. I also love it when a book can be about a multitude of things without sacrificing any one of those themes for the sake of another.
It took me a little time to warm up to the book. And warm up, I did. By the time I was halfway through the book, I was laughing out loud at the hilarious hijinks and text conversations between Andy and her friends, I was melting at Clark's lovableness and  I was cheering for Andy and her dad. It was sailing so smoothly.
The last quarter of the book was somewhat frustrating. Because, at the first sign of trouble, Andy reverts back to her old controlling and immature self. I was so annoyed at her! I was annoyed at her friends Bri and Tobey. I was even annoyed at Clark, well a little. The only character I was still rooting for was Tom. Tom is just the sweetest. But really, my annoyance with Andy reached new peaks by the last quarter. Her double standards, immaturity and controlling nature irked me to no end.
There are countless other closed off and immature protagonists I've come across but not all of them came across as irritating to me. I think that you can make a character very flawed and yet make them likeable. But Andy, at times, became very unlikable. I don't know if it's a thing about Morgan Matson. Because the only other book I read by her, Save the Date also had a very unlikable protagonist. Or maybe it's just me?
What makes me sad about it is that we see a lot of character growth for Andy in the first three-quarters of the book. I was enjoying the dates, dog-walks, dinners with dad, pool parties, scavenger hunts a lot. I could empathize with her up to a certain point. But then she had to turn back and get on my nerves with one action after another. Such a pity!
Overall, though, I enjoyed this book a lot. It was the perfect read for the summer. And it was well-written too. I just wish this book hadn't taken an unlikable turn in the last quarter, because it was too good to be true until then.
---
My Rating: ★★★☆☆
---

Have you guys also read this book? Did you also find Andy irritating? Or was it just me? I'd love to know your opinions!