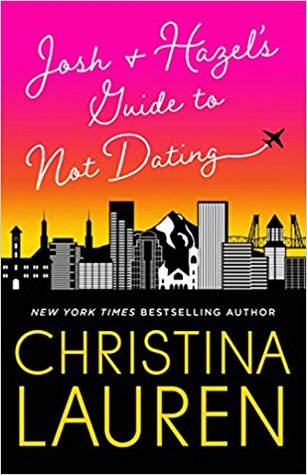 Hazel Camille Bradford knows she's a lot to take—and frankly, most men aren't up to the challenge. If her army of pets and thrill for the absurd don't send them running, her lack of filter means she'll say exactly the wrong thing in a delicate moment. Their loss. She's a good soul in search of honest fun.

Josh Im has known Hazel since college, where her zany playfulness proved completely incompatible with his mellow restraint. From the first night they met—when she gracelessly threw up on his shoes—to when she sent him an unintelligible email while in a post-surgical haze, Josh has always thought of Hazel more as a spectacle than a peer. But now, ten years later, after a cheating girlfriend has turned his life upside down, going out with Hazel is a breath of fresh air.

Not that Josh and Hazel date. At least, not each other. Because setting each other up on progressively terrible double blind dates means there's nothing between them…right?
---

Josh and Hazel's Guide to Not Dating has been on my tbr list since I found out about it in June. My past experience has mostly been disappointing with books I get excited about. Thankfully, that wasn't the case for this one.
This is now on my top 3 best contemporary romances I read this year. I absolutely adored this book. Josh and Hazel were perfect! Their friendship and love for each other warmed my heart.
Hazel was wonderfully weird. I could relate to her at so many levels! I like to think I'm embarrassing and lack no mouth filter just like Hazel. (Well, maybe not to the extent she is, but close.) Hazel was no-nonsense and loved herself. It was so beautiful to see her knowing that she's too much for a lot of people and still determined to not change herself.
"The world seems full of men who are initially infatuated by our eccentricities, but who ultimately expect them to be temporary."
We see people throughout the book being embarrassed by her and trying to tone her down. The way she handles these people and yet hides the pain she feels from that was so heartening and sad to read. Yes, I loved her larger-than-life persona, but her vulnerabilities won me over. It was also sad how she wouldn't let herself entertain ideas of something more with Josh because she thought she wasn't good enough for her.
"I realize that finding the perfect person isn't going to be easy for me because I'm a lot to take," she says, "but I'm not going to change just so that I'm more datable."
And Josh Im? Josh, oh Josh! Josh really was the perfect guy that Hazel liked to call him. He might be the epitome of all things nice, stable and dependable. He was the antithesis to Hazel's craziness. And yet, he wasn't boring. The way he let Hazel shine and just be, made butterflies flutter in my stomach. And every time someone said something remotely negative about Hazel, Josh's protectiveness springing up melted my heart. It was great to see a hero so in tune with his emotions.
"He doesn't need me to change or pretend to be someone else. He's my person. He's my best friend."
The plot was good. One thing I really appreciated was that although Josh and Hazel are forced to become roommates for a while, that's a temporary. I've read enough books where something or other forces the protagonists to stay roomie permanently. But no, the friendship between Josh and Hazel was a lot more than being forced roomies.
There was no rivalry or misunderstandings. It was nice to see mutual respect and consideration between two protagonists, which is such a rarity in contemporary romances these days.
I've been all praises for this book so far but the direction it took at the end kind of dulled the awesomeness of the book for me. That twist wasn't as bad as to change my love for the book. I didn't hate it. But I think I'd have preferred a different direction than the one it took.
In short, if you like contemporary romances that are laugh-out-loud funny; have slow burn, great chemistry, steamy scenes, healthy relationships; then this is the one for you.
---
My Rating: ★★★★☆