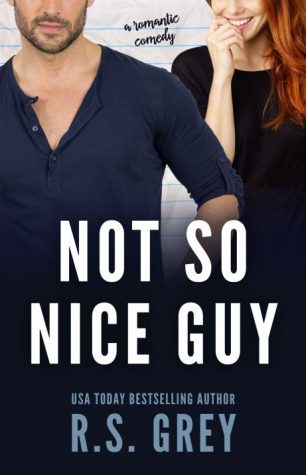 Okay. I like a nice rom-com book like any other person. I mean, what's life without a little fluff? But too much of anything is not to my liking either.
Not So Nice Guy was a like a candy that I enjoy while eating but forget about it the moment after.
Ian and Sam are colleagues and best friends who know everything each other. There was attraction from the first meeting but the timing was wrong because of them never being single at the same time, for a long time. Then there were misunderstandings that each of them were not the other's type. I found that to be very relatable and was sold on that.
But the instance that forces Ian to decide to act on his feelings felt like a cop-out to me. And the way they went ahead with it felt too ………mundane? I wished for more from their courting phase. But it was still entertaining. Until a mistake by Sam makes Ian decide on an entirely preposterous solution. It took me some time to get over how ridiculous that plot point was.
I still enjoyed the book. A lot. The one liners were funny. And I liked Sam a lot. She's a bit like me. Clumsy, awkward, lazy, anti-change. I loved her quirks. And I could see how anyone would fall for her. But again, some of her antics felt over the top to me.
Ian was great too. A nice dependable guy. But, a tad bit boring, might I say?
I'm a big fan of friends-to-lovers trope but I need more of a proper plot for me to be engaged, you know?
Anyways, I liked the book. It was funny. Made me laugh. But am I gonna read this again? I don't think so.
My rating: ★★★☆☆