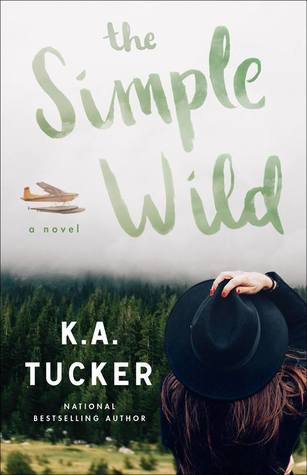 There are real physical characters in a book. And then there are settings and places that take form of a physical character themselves. Same was the case for The Simple Wild. The town of Bangor, Alaska became a character in itself.

When I read the book, I could exactly envision the Alaska the author described. It's always frustrating for me to not be able to envision the settings when I'm reading a book. But, K. A. Tucker was a master in detailing the settings which were not paragraphs upon paragraphs of prose but still enough for the readers to visualize the places.
Calla's father is a bush pilot in the wild of Alaska, a dangerous job. Her mother married him and out of love moved to the middle of nowhere. But she feels stifled and suffocated there and not long after, decides to move back to Canada., hoping her husband will follow. But Wren's life is in Alaska. He's also a closed book and inexpressive. So, despite the love between these two, they are separate.
Calla is now 26 and hasn't met her father once since her mother left with her when she was just 2. She gets a call that her father is sick right after she gets fired. So she jets off to the wild. With her 2 large suitcases and even larger prejudices. She's in for big surprises.
I liked Calla's growth and evolution throughout the book. She starts off as an entitled brat. But slowly and surely, she starts to loosen up and be comfortable in her skin, literally.
Jonah, the main pilot of Wren's company has a big hand towards that. He's a bearded "yeti" when we first meet him. And he's exactly what Calla seems to need to open up to her dad.

Jonah and Calla's chemistry was off the charts. I loved their interactions and banter.
I also loved Calla's interactions with her family, especially her step dad and Wren.
The only complaint I had from this book was the culmination of Jonah and Calla's romance. I was hoping for more from Jonah before that last scene. But that's nothing compared to how much I enjoyed the book.
---
My Rating: ★★★★★